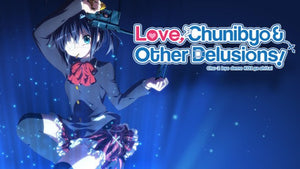 Love, Chunibyo & Other Delusions (Anime Review)
Stories about traumatic events often focus on the events leading up to or directly following the event. Rarely, does a story follow those that attempt to cope with the trauma by escaping to another world and how those around the individual attempt to help. This escape from reality is further complicated when the child-like fantasies of a middle schooler attempting to be 'cool' by showing the world how they are 'special' continue into high school.
While there are those, with similar past delusions of grandeur, attempting to live their idealized notion of a normal life. A slang term given to this situation is chunibyo. Precisely, chunibyo is when a middle schooler dedicates their entire personality to the self-created façade of being a fantasy character, often a vampire, demon, angel, wizard, alien, warrior or person with special bloodline.
Love, Chunibyo & Other Delusions is told from the prospective of Yuta Togashi who is preparing to enter his first year in high school with the goal of having a normal life. During middle school, Yuta went by 'Dark Flame Master' and acted as if he possessed supernatural powers by casting spells, on various every day happenings, in a very theatrical manner. Embarrassed by his past, and wanting to go through high school smoothly, Yuta has decided to attend a high school far away from his previous middle school to gain a fresh start. What Yuta never expected, was Rikka Takanashi, a fellow high school entrant with deep seeded chunibyo.
Wearing an eyepatch, which hides the Eye of the Demon Lord, this seemingly fearless girl met Yuta the night prior to their first day at school when she used his balcony as a ledge to balance herself as she climbed down the side of their apartment building. Unfortunately for Yuta this girl happened to hear a grand speech, as the Dark Flame Master, he was reciting to himself to calm his nerves before the first day of class. Rikka finds the Dark Flame Master to be intriguing, and attempts to find a way to get him to fully re-immerse himself in the character. Annoyed by her chunibyo ways, and attempts to pull him back into his, Yuta initially rejects Rikka; however, it quickly becomes apparent that Rikka uses her fantastical delusions to block out painful memories.
This is a story about passion. Passion for one's fantasies, which provide escape from reality. Passion for one's family, without which would be lost. Passion for those that share fantasies, hopes and dreams so that friendship may spawn. Passion that is deep enough to form a romantic relationship, which provides its own set of challenges and hardships. It is easy to see why this series has become a must watch for fans of anime, as it can tell this story in an entertaining, and often comedic, manner. We all have met someone that suffers from chunibyo, but it is always important to remember that there are often deeper reasons for this condition to exist.
---