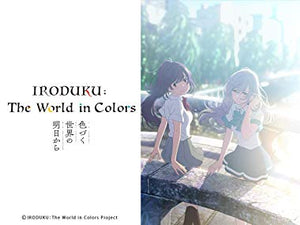 Iroduku: The World in Colors (Anime Review)
Anime contains a fascinating mix of genres, some more well suited to the medium than others. The mismatch of genres becomes evident when a series that is well written seems out-of-place due to poor animation or when emotion is lost in the art of animation that requires dramatic storytelling. When a well written and interesting story is combined with excellent artwork the entertainment medium of animation truly shines.
Iroduku: The World of Colors from P.A. Works beings in the future of 2078 and focuses on Hitomi Tsukishiro, a teenage girl from a family of magic users, who has lost her ability to see color. Filled in a depressing monochromatic world she is unable to find joy in life. Hitomi's grandmother, Kohaku, wanting her granddaughter to find happiness uses a magic device to send Hitomi back to 2018 to meet her younger self. After an initially awkward meeting when first arriving in 2018, Hitomi follows Yuito Aoi, and finds him drawing on a digital tablet in a park.
The odd thing about Yuito's drawing is that Hitomi can see its vibrant and lively colors. A glance at Yuito's artwork momentarily fills Hitomi's world with an explosion of colors, giving her a reprieve from her otherwise dreary sight. Begging to see Yuito's work again, Hitomi becomes part of the art and photography club at the local high school, where the 17-year-old version of her grandmother is preparing to return to after studying magic abroad.  
A slice-of-life that mixes the metaphors of optimistic and pessimistic perspectives with the world of art is an interesting take in any form of media. Where Iroduku excels is in how it shows the most vibrant of colors within the artwork, providing the viewer intense colors different from the 'normal' world. As with most slice-of-life, there are moments of drama, comedy, love, tragedy, sadness, and happy satisfaction that brings the viewer into this world of science and magic.
Surprisingly, the music is very well produced and is perfectly matched with the visuals. While it is easy to ignore the music in a story focused on visual ability, the music sets the tone for the mood and feelings of the characters. On our 2018 year-end podcast, this is one show that is ranked highly among so many other great anime in 2018 and is one that will be worth watching for many years to come.
---