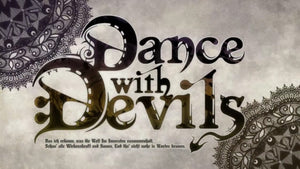 Dance with Devils (Drama and Musical Anime Review)
Looking for a new anime with rock opera elements in a paranormal setting? Then look no further than Dance with Devils. Ritsuka Tachibana is targeted by both the devils and vampires within her school, believing that she knows the location of the legendary and powerful grimoire. When she comes home and witnesses her mother being kidnapped, Ritsuka realizes there is something big going on, but she is unaware of the magnitude. Even though Ritsuka contacts the authorities to report the break in, they reveal that there was no sign of her house being opened, no sign of a struggle, and no sign of her mother.
Lindo Tachibana, Ritsuka's brother who lives in England and secretly became an exorcist, advises his sister to stay with a friend until he arrives to help. On the way to her friend's house, Ritsuka is attacked by a group of vampires, demanding that she tell them the location of the grimoire. Head of the student council, and high ranking devil, Rem Kaginuki saves Ritsuka from the vampires, and uses the situation as a way to use her to find the grimoire. The events that unfold reveals the existence of vampires, devils, exorcist, and previously unknown family history to Ritsuka. Making matters more complicated, Rem and Ritsuka begin to develop romantic feelings for one another, but due to their circumstances they are unable to be together.
A well done story, all be it familiar to fans of the genre, what makes Dance with Devils shine is the animation and music. Gorgeous animation does a lot for the aesthetic of this anime, as the character designs and backgrounds have a certain dark but classy look. The choreography of the fight scenes really shows the quality and fluidity of the animation. The large fight scenes in this anime are musical in nature, in the way one would think of fights in classic musicals or rock operas. Additionally, the main devils each have their own music based introductions. While this type of production can produce an unintended comedic style, Dance with Devils does an excellent job of keeping these moments within the context of the story.
Twists abound in this anime, with several moments that will surprise viewers. This fantastic, albeit dark, anime is filled with music, romance, paranormal, and a touch of comedic relief, could be appreciated by fans of those genres. It is perfectly acceptable for audiences of teens and adults interested in an artistic display of a paranormal type of story. Those that enjoyed Trinity Blood, Vampire Knight, or Black Butler will find this an enjoyable series.
Have you seen Dance with Devils? Let us know your thoughts below. If you enjoyed this review please go take a look at our monthly box offering. All cool stuff of a specific theme, no subscription required, and you can let us know what you would want to see in next months box by taking a simple poll.
---